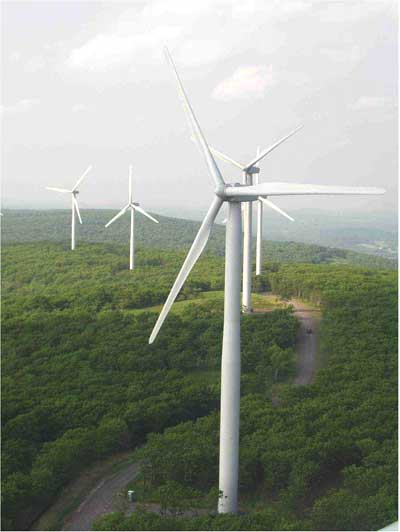 Driving home from Albany over the holiday weekend we decided to plan an alternate route to avoid NY Thruway traffic. We ended up taking I-88 then backroading it from there. Much to our surprise and delight we discovered the second largest wind generation facility in the US! What an absolutely awesome installation this is!
Waymart Wind Generation Facility is an incredible sight. My only regret is that we saw it on a windless day. Had we driven home the day before, we most likely would have seen these in action.
The image is courtesy of the Pennsylvania Wind Working Group. I guess next time I drive up past Wilkes Barre I'll be able to spy another big project up at Bear Creek.
All I can say about both of them is that it's about time, and we need lots more of these. Even better, we need to concentrate on small scale and decentralized projects just as much. Put a wind generator or two in every town. Put photovoltaic panels on every roof. Perform methane capture at every landfill.